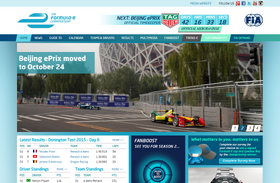 fiaformulae.com is the official website for the FIA Formula E Championship, operated by Formula E Holdings and the FIA.[1] The site itself, Formula E.com, provides users with the official race reports, results and news relating to the Championship, and also allows acess to the Formula E Shop and FanBoost voting area.
The Formula E Website was created in 2012 upon the official creation of the Championship on the 1st of August that year.[2] There have been no major modifications to the site since, although the homepage is regularly modified to display the most recent content from the sport. The site has also seen advertising grow throughout its lifetime, but this is restricted to the various partners of the Championship, such as Michelin, Qualcomm and the FIA (particularly their "Road Safety" campaign).
Online Features
Edit
The Formula E Website provides numerous features freely to the public alongside its news stories and results publications.
Simple Streaming
Edit
Live feeds of every race are available depending on the region of the user, while a live timing system is also available, provided by the Official Time Keeper TAG Heuer. There is also a periodic analysis of the Championship by Jack Nicholls, who works as the series' lead commentator alongside Dario Franchitti and head presenter Nicki Shields. The trio host every race of the season on the site, and provide commentary on English feeds of the Championship on TV.
Also key to the site is the use of videos, either as highlight packages or (post-season) showing full races. As well as uploading a two to three minute long highlight video to both the Website and the official YouTube account of the series, numerous replays of incidents, comments or features are also uploaded frequently to increase user interaction. After a few days "Extended" highlight packages are also added to the sites, covering more content from the race and usually incorporating interviews with the top three drivers.
At the end of the 2014/15 season, the FIA and FEH allowed full race replays to be uploaded to the site and official YouTube account, although the small highlight and incident videos are retained.
Influence through Interaction
Edit
As well as these streaming and review features, the Formula E Website provides user interaction through various means. The official Facebook and Twitter accounts are linked directly to the website, while the FanBoost voting area of the site is publicised throughout. Various other promotions are provided through the site, with a survey conducted on the site during the off-season to gauge reaction to the most recent season, and how the Championship may develop in the future.
External Links
Edit
Below is a list containing the links to the official sites of the Championship:
References
Edit
↑ 'Terms & Conditions', fiaformulae.com, (FIA Formula E, 2015), http://fiaformulae.com/en/terms-and-conditions.aspx, (Accessed 11/09/2015)
↑

'New FIA Formula E Championship powered by electric energy', 

fiaformulae.com

, (FIA Formula E, 01/08/2012), 

http://www.fiaformulae.com/en/news/2012/august/new-fia-formula-e-championship-powered-by-electric-energy.aspx

, (Accessed 09/07/2015)