McLaren Applied Technologies
Partner Information
Based
McLaren Technology Centre, Woking, Surrey, United Kingdom
Founder
Ron Dennis; Martin O'Connor (1991)
Announced
1 November 2013[1]
Broke
Role
Battery; Powertrain
Official Website
MAT
McLaren Applied Technologies, often abbreviated to MAT, is a British based technology firm and subsidiary of the McLaren Automotive group of companies.[2] Originally founded in 1991 as McLaren Composites, MAT have been one of McLaren's most successful research and development businesses, with interests in motorsport, space and health among others.[2]
MAT were originally involved in the ABB FIA Formula E Championship in 2013, when their subsidiary, McLaren Electronic Systems, were commissioned to develop the powertrain for the Spark-Renault SRT_01E.[1] MES were later absorbed into MAT, with the latter continuing to develop their powertrain for Mahindra Racing, before winning the tender to supply batteries to FE from the 2018/19 season.[3]
Background
Edit
MAT began their life as McLaren Composites in 1991, a project founded by Ron Dennis and Martin O'Connor to develop advanced materials for their future road car project, the McLaren F1.[2] McLaren Composites and TAG Electronics would later merge in 2004, becoming McLaren Applied Technologies as Ron Dennis restructured McLaren Automotive around their halo project: Formula One.[2] MAT took over the McLaren Group's customer research and development projects, with its own subsidiary, McLaren Electronic Systems, focusing on electronic systems.[2]
Formula E History
Edit
It would be MAT's subsidiary, McLaren Electronic Systems that was approached by the FIA and Formula E Holdings to develop a powertrain for the first ever Formula E car, being designed by Spark Racing Technologies and Dallara.[1] MES ultimately opted to make modifications to McLaren Automotive's new McLaren P1 powertrain, making the system more efficient and capable of running a relatively small formula car at 225 km/h without issue.[1] The powertrain was approved and duly fitted to the new Spark-Renault SRT_01E, and would be used by every team in the inaugural 2014/15 Championship.[1]
The Power of Batteries
Edit
MES, and later MAT, would continue to support their powertrain into the 2015/16 season, making minor upgrades to the design for Team Aguri and Andretti Formula E, who continued to use the old system.[4] They would also be commissioned to develop a system for Mahindra Racing, working with their parent company Mahindra & Mahindra to produce a new powertrain.[4] Their partnership would later come to an end in 2016, with Mahindra signing a deal with Magneti Marelli ahead of the 2016/17 season.[5]
Regardless, MAT continued to be the McLaren group's representative in Formula E, and would win a tender to supply batteries for the 2018/19 season.[3] This new battery, which was to be inserted into another Spark/Dallara creation dubbed the "Gen 2", was to last for an entire E-Prix distance, meaning mid-race car swaps were a thing of the past.[6] The new battery was also expected to cope with a power hike for the FE Championship, needing to be capable of producing 250 kw/h of peak power.[7]
McLaren Applied Technologies, and their subsidiaries, have been involved in Formula E since the inaugural season, and have supplied parts and equipment to both of the base FE cars.
Spark-Renault SRT_01E
Edit
Main Article: Spark-Renault SRT_01E
MAT's first major contribution to the Formula E Championship was their creation of the Spark-Renault SRT_01E, the first homologated car for the FIA Formula E Championship, with McLaren Electronic Systems developing the base powertrain.
[1]
Capable of producing 200kw (270bhp) and reaching 225kmh (140mph), the SRT_01E was the first FIA sanctioned all electric race car to be produced, with all 10 entrants in the
2014/15 Formula E Championship
issued with four examples.
[8]
Modifications to the car are not allowed (apart from race setup work), although from 2015/16, manufacturers were able to replace the MES powertrain.
[4]
Spark Gen 2
Edit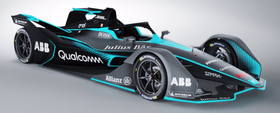 The second Spark creation for FE would be the radically different
Spark Gen 2
, which featured prototype style bodywork rather than a traditional open-wheel design.
[6]
The new car, boasting the MAT designed battery, will be the first car capable of completing a full
E-Prix
distance, with a potential maximum speed of 300km/h (186 mph).
[6]
Like its predecessor, the Gen 2 will be retrofitted with different powertrains when it is delivered to the ten Formula E entrants for the
2018/19
season, although all will use the MAT developed battery during the car's three season commission.
[9]
References
Edit
Videos and Images:
Smokeonthewater, 'Spark-Renault SRT 01 E (Formula E)', commons.wikimedia.org, (WikiMedia, 10/09/2013), http://en.wikipedia.org/wiki/Spark-Renault_SRT_01E#mediaviewer/File:Spark-Renault_SRT_01_E_(Formula_E).JPG, (Accessed 09/07/2015)
'Introducing: the Gen2 Formula E car', fiaformulae.com, (FIA Formula E, 30/01/2018), http://www.fiaformulae.com/en/news/2018/january/introducing-the-gen2-formula-e-car/, (Accessed 30/01/2018)
References:
↑ 1.0 1.1 1.2 1.3 1.4 1.5 'McLaren to power new FIA Formula E Championship', fiaformulae.com, (FIA Formula E, 01/11/2012), http://www.fiaformulae.com/en/news/2012/november/mclaren-to-power-new-fia-formula-e-championship.aspx, (Accessed 09/07/2015)
↑ 2.0 2.1 2.2 2.3 2.4 'McLaren Applied Technologies: Our Story', mclaren.com, (McLaren Automotive, 2018), https://www.mclaren.com/appliedtechnologies/about/, (Accessed 01/02/2018)
↑ 3.0 3.1 'McLaren to supply new Formula E battery', fiaformulae.com, (FIA Formula E, 28/09/2016), http://www.fiaformulae.com/en/news/2016/september/mclaren-to-supply-new-formula-e-battery/, (Accessed 01/02/2018)
↑ 4.0 4.1 4.2 'Eight manufacturers to enter Formula E next season', fiaformulae.com, (FIA Formula E, 23/02/2015), http://www.fiaformulae.com/en/news/2015/february/eight-manufacturers-to-enter-fia-formula-e-from-second-season.aspx, (Accessed 19/07/2015)
↑ 'TEN TEAMS ENTERED FOR THE 2016-17 FIA FORMULA E CHAMPIONSHIP', fiaformulae.com, (FIA Formula E, 01/07/2016), http://fiaformulae.com/en/news/2016/july/ten-teams-entered-for-the-2016-17-fia-formula-e-championship/, (Accessed 08/07/2016)
↑ 6.0 6.1 6.2 'Introducing: the Gen2 Formula E car', fiaformulae.com, (FIA Formula E, 30/01/2018), http://www.fiaformulae.com/en/news/2018/january/introducing-the-gen2-formula-e-car/, (Accessed 30/01/2018)
↑ 'Nine manufacturers homologated for Season 5', fiaformulae.com, (FIA Formula E, 21/03/2017), http://www.fiaformulae.com/en/news/2017/march/nine-season-5-powertrain-manufacturers-homologated/, (Accessed 22/03/2017)
↑ 'Car: Specification', fiaformulae.com, (FIA Formula E, 2015), http://www.fiaformulae.com/en/guide/car.aspx?page=1334, (Accessed 19/07/2015)
↑ 'Nissan joins growing list of automotive brands in Formula E', fiaformulae.com, (FIA Formula E, 25/10/2017), http://www.fiaformulae.com/en/news/2017/october/nissan-joins-growing-list-of-automotive-brands-in-formula-e/, (Accessed 25/10/2017)